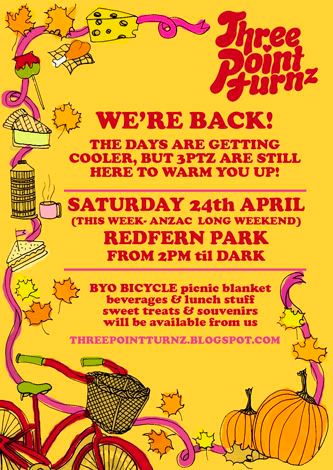 THREE POINT TURNZ ARE BACK!
And even though the days are getting cooler, we are still here to warm you up!
We are so excited to bring you one of our all original REDFERN BLOCK PARTIES - and as anyone who has previously attended will assure you - YOU'D BE CRAZY TO MISS THIS!
SO ON YA BIKES! and come out to play on what may be the last of the sunny days
THIS SATURDAY 24th APRIL
(ANZAC LONG WEEKEND)
REDFERN PARK - FROM 2PM til DARK
BYO
BICYCLE
picnic blanket
beverages
lunch stuff
SWEET TREATS & SOUVENIRS AVAILABLE FROM US.
Can't wait to see you there,
Love the 3PTZ. xxxooo